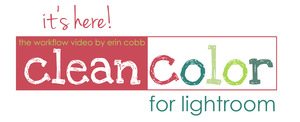 Hello photography lovers! I am so excited to share with you about my most recent (and highly anticipated) tutorial: Clean Color for Lightroom. Over the last several years I have gradually moved my editing process from Photoshop into Lightroom. And although for my professional images I still head into Photoshop for a few final tweaks and edits before printing, Lightroom is now where 80-90% of my editing takes place. Lightroom is an incredibly powerful program that allows you to create an editing style and replicate it over multiple images instantly. I highly recommend Lightroom for photographers (amateurs and professionals alike) who are looking to speed up their workflow, while maintaining an accurate and reliable style.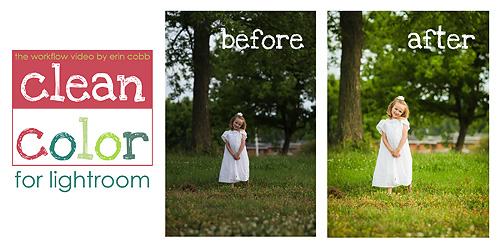 If you're a Lightroom fan (or are just Lightroom curious) then I think you'll love what I have in store for you. Like Clean Color for Photoshop and Elements before it, Clean Color for Lightroom is a workflow video tutorial that uses screen-capture software to take you on an editing journey with me. You'll follow along for almost two hours as I detail every step in my Lightroom process. From import to export you'll discover all the tricks of my editing trade including how to adjust color, make your images pop, crop, clone, vignette, sharpen, reduce noise…seriously, this tutorial has it all!
But What Would An Intro Be Without A Discount?
Clean Color for Lightroom will retail for $129 (just like its Photoshop counterpart) but for THIS WEEK ONLY I'm offering it as an intro special for only $89. So get it while the getting's good! And if you haven't delved into the world of Lightroom yet, head over to Amazon and grab yourself a copy today. At just over $100 the program itself is a steal of a deal: Adobe Photoshop Lightroom 4
.
So what are you waiting for? Let's start importing, sorting, editing, and synchronizing!
(And be sure to read what my good friend and partner in photography crime, Karen Russell, has to say about Clean Color for Lightroom here.)